Attention A T users. To access the menus on this page please perform the following steps. 1. Please switch auto forms mode to off. 2. Hit enter to expand a main menu option (Health, Benefits, etc). 3. To enter and activate the submenu links, hit the down arrow. You will now be able to tab or arrow up or down through the submenu options to access/activate the submenu links.

VA
»
Health Care
» Center of Innovation on Disability & Rehab Research (CINDRR)
Center of Innovation on Disability & Rehab Research (CINDRR)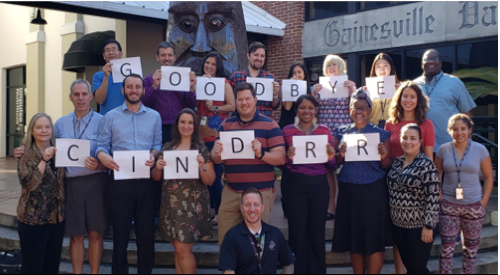 CINDRR Completes Mission
From 2013-2019, Gainesville investigators used funding to create a strong research foundation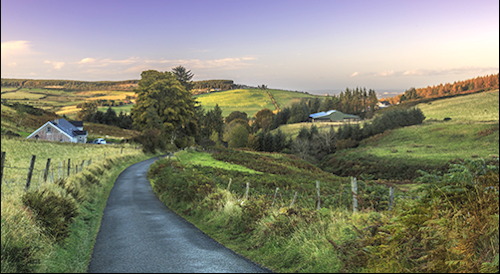 CINDRR Transforms to Rural Hub
Veterans Rural Health Resource Center will focus on rural workforce and independent living for Vets. Learn more below.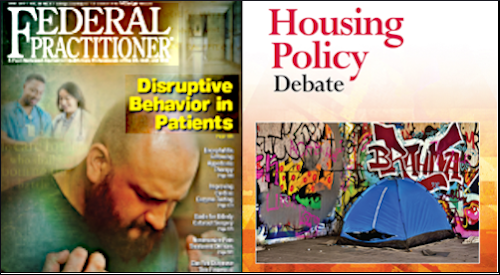 Issues Impacting Vets' Health
CINDRR explores difficult issues impacting Vets' health: disruptive behavior during health care and rental housing for Veterans with disabilities.

The Center of Innovation on Disability and Rehabilitation Research (CINDRR) was previously a Health Services Research and Development (HSR&D) Center of Innovation (COIN) funded from 2013 to 2019. CINDRR investigators were located in both Gainesville and Tampa, Florida, and are continuing the work of CINDRR with the same collaborations and same mission: To optimize rehabilitation services for Veterans with disabilities to improve their health and quality of life.

The support of HSR&D was invaluable in creating a research foundation that investigators are continuing to build on. Post-CINDRR funding for these investigators now comes from many other sources, for example, from VA investigator-initiated research projects; from special project funding from the Office of Rural Health, the Physical Medicine and Rehabilitation Service, and other national VHA program offices; from non-VA sources such as the National Institutes of Health (NIH) and the National Endowment for the Arts; and from non-Federal sources such as the Neilsen Foundation.

This website serves as an archive of the HSR&D COIN. Archive pages and information will be identified as such throughout the website.


A number of these investigators under CINDRR were originally part of the Eastern Region VRHRC and worked on the following VRHRC Rural Promising Practices (RPP) and Enterprise Wide Initiatives (EWIs) including:
Clinical Video Telehealth to Care for Rural Veterans with Multiple Sclerosis
Community Clergy Training to Support Rural Veterans' Mental Health
Rural Training Initiative
Rural Veterans Tele-Rehabilitation Initiative
VISN Needs and Priorities Study EWI.
The research arm of the Eastern Region – the Center of Innovation on Disability and Rehabilitation Research (CINDRR), which as funded by Health Services Research and Development (HSR&D) – was also involved and focused on developing strategies for improving rehabilitation services and on the long-term management of disability, including how family members are impacted.
Investigators previously with CINDRR and now with VRHRC-GNV are experts in research design and analysis and, in addition to research, have conducted evaluations for ORH that received high praise from leadership of the Veterans Health Administration (VHA). Of note, the evaluation team for the Rural Veterans Coordination Pilot performed analyses that enabled the ORH Executive Director to provide data-driven recommendations to the Secretary of VA.
Currently, VRHRC-GNV investigators are conducting an EWI – the VHA Rural Needs Assessment EWI, and evaluating two other EWIs:
Tele-Rehabilitation EWI (TR-EWI)
Rural Veterans TeleRehabilitation Initiative (RVTRI)
Also in Gainesville providing additional services is the Geo Spatial Outcomes Division (GSOD). It was established in 2008 as part of the Eastern Region VRHRC (currently in partnership with the White River Junction VRHRC) to provide geospatial support for rural policy analysis, strategic planning, rural geographic database design, and implementation efforts in support of rural Veteran health care. The GSOD provides its unique services to ORH, other Program Offices, VA Leadership, and any research investigators interested in examining rural Veteran issues using geographic information system tools.
The North Florida/South Georgia Veterans Health System (NF/SGVHS) where the VRHRC-GNV is located consists of 2 medical centers, 3 large multi-specialty outpatient clinics, and 9 community-based primary care outpatient clinics. The NF/SGVHS is one of the busiest VA health systems, providing 120,000 unique patient encounters monthly. A half century of southeastern migration of elderly Veterans and more recent post-hurricane relocations from south Florida and Puerto Rico have combined to make the NF/SGVHS responsible for a large, ethnically diverse Veteran population.
In collaboration with ORH, the VRHRC-GNV identified two broad areas in the ORH portfolio that have gaps in information, and these will be come the focus of the VRHRC-GNV:
Independent living for rural Veterans
Workforce recruitment/retention/education in rural areas.
The VRHRC-GNV will support the overall ORH mission to conduct, coordinate, promote, and disseminate research on care for rural Veterans and to develop, refine and promulgate policies, best practices, lessons learned, and innovative and successful programs.
In addition, the VRHRC-GNV will provide technical assistance to the VA rural health community and, as needed, to others within VHA, on research design, statistical analysis, survey design, psychometrics, and qualitative methodology and on data extraction, management, and reporting. Moreover, in the past 3 years, our investigators have gained significant experience with EWI evaluations. Our evaluation team will continue to offer this service on request. Geospatial services will be provided by the GSOD.
Leadership
Keith Myers, PT, DPT, MBA, Co-Director Clinical
Dr. Myers is a Physical Therapist with nearly 20 years of experience as a clinician and healthcare administrator. His clinical practice experience ranges across sub-acute rehabilitation, acute care hospital rehabilitation, and outpatient settings including telehealth connectivity to Veterans' homes. Before joining the VA in 2008, Dr. Myers worked for Shands Healthcare (now UF Health). Since joining the NFSGVHS in 2008, Dr. Myers has served as the Chief of Physical Therapy, Acting Executive Assistant to the Chief of Staff, and is currently the Service Line Manager for the Physical Medicine and Rehabilitation Service (PMRS). He leads the telehealth operations for PMRS at the NF/SGVHS and collaborates on expanding the use of clinical video telehealth as a resource for rural Veterans to access a variety of clinics. Dr. Myers will provide clinical oversight of the VRHRC-GNV core and individual projects. He will investigate solutions to rural workforce challenges while continuing to pursue strategies that optimize telehealth technology and community provider partnerships to ensure Veterans in rural areas have access to the best practice healthcare solutions.
Sergio Romero, PhD, Co-Director Operations
Dr. Romero is a Research Health Scientist and was Assistant Director of CINDRR in Gainesville. He also holds an appointment with our academic affiliate, the University of Florida, as a Research Assistant Professor in the College of Public Health and Health Professions. Dr. Romero joined the VA in 2006 as a pre-doctoral fellow. After receiving his doctoral degree in Rehabilitation Sciences, he completed VA post-doctoral training at the Rehabilitation Outcomes Research Center. Dr. Romero's research focuses on the use of therapeutic approaches and technology to improve function and independence in persons with disabilities. He employs a holistic approach that considers personal, social, cultural, and environmental factors that impact Veterans and others with limited function. His work has been funded by VA HSR&D, VA Rehabilitative R&D, ORH, National Institutes of Health and the National Institute on Disability, Independent Living, and Rehabilitation Research (NIDILRR). Currently, he leads the evaluation of 2 ORH funded EWIs and co-leads the VHA Rural Needs Assessment EWI. Dr. Romero will oversee the operations of the VRHRC-GNV administration core and individual projects. He will also manage the research/ evaluation support core in coordination with project leads.